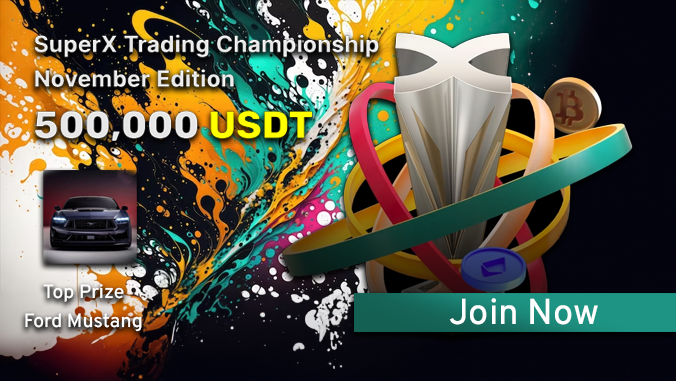 🌟 Dear Esteemed Traders,
As we step into the vibrant month of November, an exceptional event beckons—the SuperX Trading Championship, November Edition, proudly presented by Tealstreet x BingX.
In this season of change, where the trading landscape evolves, we invite you to be part of a unique convergence. Traders from various backgrounds will gather, transcending conventional boundaries, to embark on a journey that promises growth, learning, and an opportunity to showcase your trading prowess.
This edition guarantees an extraordinary voyage, a crucible of opportunities for personal and professional development. Join us in the creation of a remarkable community that celebrates the artistry of trading.
United with fellow traders, each possessing distinct skills, your participation will undoubtedly elevate the competition to new heights. Seize this opportunity, test your skills, and unveil your trading brilliance as you navigate challenges and embrace the opportunities presented by the markets.
In this enriching journey, let us foster an environment of camaraderie and sportsmanship. Together, we aim to create a space of mutual support and encouragement, where every participant can flourish and share insights derived from the ever-evolving market trends.
Our heartfelt gratitude extends to our organizing partners, whose dedication and meticulous planning have given life to this remarkable event. Their efforts have laid the foundation for a competition that will leave an indelible mark on the trading landscape.
As the competition unfolds, remember that it transcends individual achievements. It's about collective growth and the shared journey of our trading community. Let's craft an experience that will be remembered for its impact on our collective understanding of the trading world.
Wishing you abundant fortune, skill, and success as we gather to embrace this unique opportunity and collectively shape a trading competition that will resonate for years to come. May your trades be as remarkable as the journey ahead! 🚀📈✨
This event is exclusively for invited users only.
All registered users are eligible to receive a random reward, which can be claimed by those with a minimum net asset value (NAV) of 100 USDT.
Both Standard Futures and Perpetual Futures trades will be counted for this event. (Including non-cryptocurrencies)
During the event, all deposits and withdrawals will affect the statistics of your profit. 
1st Prize: Ford Mustang (2024 Mustang® Dark Horse™ Premium,worth 110,000 USDT); 2nd Prize: Overseas trip (Antarctica or Maldives, worth 60,000 USDT); 3rd Prize: Premium photography equipment (Hasselblad 907X Anniversary Set, worth 40,000 USDT)